Quality Criteria
The Resolution of October 25th 2005 by the National Commission for the Evaluation of Research Activities, establishes the specific criteria that are used to evaluate the curricula from Spanish researchers in the area of behavioral sciences included in field of Social, Political, Behavioral and Educational Sciences. The third section of this Resolution indicates that:

"Articles in prestigious journals will be preferentially considered. These journals are those included in the Subject Category Listing of the Journal Citation Reports of the Social Science Citation Index and the Science Citation Index (Institute for Scientific Information –ISI- Philadelphia, PA, USA), as well as those journals that meet the criteria specified in Appendix 1
The Appendix that is mentioned in the aforementioned Resolution is as follows:
CRITERIA FOR A RESEARCH PUBLICATION (JOURNAL, BOOK, CONGRESS) TO BE RECOGNIZED AS OF MINIMUM IMPACT
Criteria regarding the informative quality of the journal as a medium of scientific communication
1. Members from the editorial and scientific boards are publicly known.
2. Detailed instructions are provided to authors.
3. Information is included with regard to the process of evaluation and selection of manuscripts that is used by the journal, editorial or committee, including the criteria, procedure and revision plan of reviewers or experts.
4. Summaries, article titles, keywords and abstracts are translated to English, in the case of journals and books of conferences.
Criteria regarding the quality of the editorial process
5. Regular publication of journals, and an homogeneous editorial line in the case of books.
6. Published content is previously evaluated by external reviewers to the editorial board.
7. Anonymous review of manuscripts.
8. Editorial decisions are communicated to authors. For example, the journal or editorial notifies editorial decisions including reasons for acceptance, further review of rejection of manuscripts, as well as original reviews issued by the external reviewers.
9. The editorial board is formed by a director, a secretary and several advisors
10. The scientific board is formed by competent professionals and researchers who do not have any institutional relation to the journal or to the editorial, and establishes and evaluates the editorial activity.
Criteria regarding the scientific quality of journals
111. Percentage of research articles: over 75% of published articles must report the results of original studies.
12. Authorship: over 75% of published articles must be from authors that do not belong to the editorial board or to the editorial.
Moreover, the journal should include a section with statistical information regarding the number of received and accepted articles. Also, the inclusion of the journal in international bibliographical databases will be considered.
In order to meet these criteria, and to facilitate the evaluation of the research activities for authors publishing in the International Journal of Psychology and Psychological Therapy, the website includes a section with data to evaluate the fulfillment of the criteria listed above, statistical information regarding received and accepted articles, and a reference to databases in which the journal is indexed.
SUMMARY OF THE FULFILLMENT BY THE INTERNATIONAL JOURNAL OF PSYCHOLOGY AND PSYCHOLOGICAL THERAPY OF CNEAI CRITERIA FOR THE EVALUATION OF SCIENTIFIC PRODUCTIVITY
Criteria regarding the informative quality of the journal as a medium of scientific communication
| | |
| --- | --- |
| 1. Members from the editorial and scientific boards are publicly known. | Fulfilled. Members are listed in the journal cover and in the Editorial Board section, as well as in the Website. |
| | |
| --- | --- |
| 2. Detailed instructions are provided to authors . | Fulfilled. Instructions are included in each issue, both in English and Spanish, as well as in the website. |
| | |
| --- | --- |
| 3. Information is included with regard to the process of evaluation and selection of manuscripts that is used by the journal, editorial or committee, including the criteria, procedure and revision plan of reviewers or experts . | Fulfilled. Information is included in the Guidelines for Authors section. |
| | |
| --- | --- |
| 4. Traducción del sumario, títulos de los artículos, palabras clave y resúmenes al inglés, en caso de revistas y actas de Congresos . | Fulfilled. |
Criteria regarding the quality of the editorial process
| | |
| --- | --- |
| 5. Regular publication of journals, and an homogeneous editorial line in the case of books. | Fulfilled. |
| | |
| --- | --- |
| 6. Published content is previously evaluated by external reviewers to the editorial board. | Fulfilled. |
| | |
| --- | --- |
| 7. Anonymous review of manuscripts. | Fulfilled |
| | |
| --- | --- |
| 8. Editorial decisions are communicated to authors. For example, the journal or editorial notifies editorial decisions including reasons for acceptance, further review of rejection of manuscripts, as well as original reviews issued by the external reviewers. | Fulfilled. Communications to autors regarding reviews include the original reviews issued by reviewers. Editorial decisions are communicated to authors. |
| | |
| --- | --- |
| 9. The editorial board is formed by a director, a secretary and several advisors. | Fulfilled. The Editorial Board has eight Associate Editors from five different countries, as well as six Assistant Editors. |
| | |
| --- | --- |
| 10. The scientific board is formed by competent professionals and researchers who do not have any institutional relation to the journal or to the editorial, and establishes and evaluates the editorial activity. | These functions are assumed by the Board of Editors, formed by 108 competent professionals and researchers from 11 countries, withouth any institutional relation to the journal or to the editorial. |
Criteria regarding the scientific quality of journals
| | |
| --- | --- |
| 11. Percentage of research articles: over 75% of published articles must report the results of original studies. | See data from figure 1. |
| | |
| --- | --- |
| 12. Authorship: over 75% of published articles must be from authors that do not belong to the editorial board or to the editorial. | See data from figure 2. |
| | |
| --- | --- |
| Moreover, the journal should include a section with statistical information regarding the number of received and accepted articles. Also, the inclusion of the journal in international bibliographical databases will be considered. | Fulfilled (see figure 3). The journal has solicited a formal evaluation to the ISI. Indexed in the first quartyle of the IN-RECS database, 12th position (from a total of 92 journals), with an impact index for 2004 of 0,333. |

STATISTICAL INFORMATION REGARDING ACCEPTED AND PUBLISHED ARTICLES IN THE JOURNAL OF PSYCHOLOGY AND PSYCHOLOGICAL THERAPY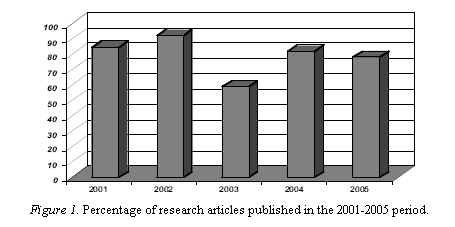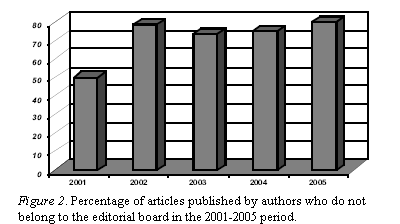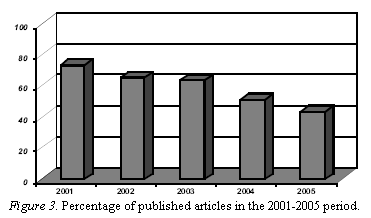 DATABASES IN WHICH THE JOURNAL OF PSYCHOLOGY AND PSYCHOLOGICAL THERAPY IS INCLUDED
The International Journal of Psychology and Psychological Therapy is indexed in the following bibliographical databases:
PsycINFO, Psychological Abstracts and ClinPSYC (American Psychological Association)
PROQUEST and PRISMA (ProQuest Information and Learning Company)
EBSCO Publishing Inc
ISOC (CINDOC, Consejo Superior de Investigaciones Científicas)
PSICODOC (Colegio Oficial de Psicólogos)
Latindex Catalog (On-line information system for scientific journals from Latin America, the Caribbean, Spain and Portugal)
IN-RECS (Impact Indix for Spanish Journals on Social Sciences)
RedALyC (Scientific Journals Network from Latin America, the Caribbean, Spain and Portugal)
DIALNET (University of La Rioja, Spain)
IBECS (Spanish Bibliographical Index on Health Sciences)